Residences/ Apartment Complex
Skycom1 offers a very cost-effective deal for condominium and apartment buildings.
We will deliver our Wi-Fi service to the building and then install wireless Internet access points throughout the location in order to make the entire property an Internet hot zone. This is done at no cost to any building association or management. We cover the cost of the entire installation, no strings attached.
Following the installation, residents may then easily sign up for high speed wireless Internet service at any time. No equipment is needed and no scheduled visits are needed for a tech to get you online.
Many property managers have found this service extremely convenient, as with a phone call they can provide service for a unit in less than five minutes.
A second direct line service is also offered on individual request. This is a faster service and is delivered via hard wire to the condo.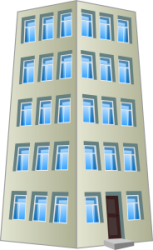 We have enjoyed a great working relationship with Skycom1 during the past 5+ years, specifically contracting with them in four downtown properties (residential, multifamily and mixed use). We prefer giving locals our business, especially small companies like ours. We have found Skycom1 really great with their personal response time and customer service, which makes them stand out amongst the competition.

Mi Mi Montagnet Bankston, CCIM – Owner, M2 Brokerage

As a downtown real estate agent who leases furnished condos, we use Skycom1 to resolve the problem of short-term Internet needs and month-to-month "no contract" setup. I still can't believe that when we need tech support or have a question, we just call Ray, and he answers the phone in person. I know Skycom1 has grown a lot in the past few years, but, like us, he still believes in the value of speaking to customers personally – we refer everyone we know to Skycom1!

Anne Beck - New Orleans Condo Leasing

Skycom1 works so well, that it's out of sight, out of mind. Service simply WORKS; on the rare occasions it does not, their technicians come to our office quickly. They diagnose the problem and fix it immediately. I would strongly recommend them to any company or individual in need of their service.

Tony Moore – Owner, Investment Realty Group, LLC